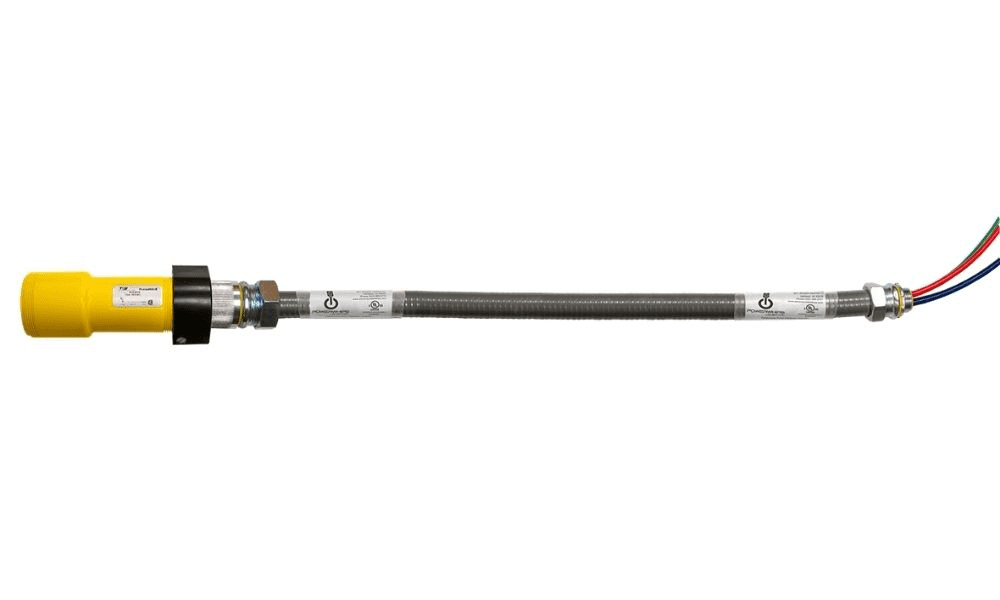 Power whips are used within data centers for modular equipment connectivity.
Power whips are specific electrical cables whose purpose lies in connection. These cables connect the building's main power supply to the electrical components of a building, office, or large data center. Let's examine the various data center power whips types and their configurations.
IEC Power Whips
IEC power whips are connector cables that are designed and manufactured based on particular standards that are created by the International Electrotechnical Commission (IEC). This organization is the main supplier of worldwide standards for electrical or electronic technologies. These standards ensure both safety and efficiency. Hence, this heavy-duty device has a configuration to fit voltage systems around the world and is ideal for high voltage systems. We label this type of device as a secure "prefabricated power distribution assembly" that can be cut to the exact length specifications needed.
NEMA Power Whips
Another one of the data center power whips types is called a NEMA wiring device. These whips are manufactured within the industry from the National Electrical Manufacturers Association. They are traditionally the standard for power distribution in data centers across North America. Their service is effective from 15 to 60 amps, with voltage ratings between 125 and 600 volts. Buyers can choose between two classifications: straight-blade or locking. Locking provides for a more reliable connection. We also label this type as a secure "prefabricated power distribution assembly" that can be cut to the exact length specifications needed.
RussellStoll Power Whips
RussellStoll whips are watertight connectors with an effective pin and sleeve design that meets safety standards and regulations. These secure devices are rated for particular volts and amps to prevent hazardous mismatching. Hence, RussellStoll whips connect tightly, solely to other RussellStoll devices. They allow for a higher flow of current at a lower temperature operation. Like the two types above, this type is also a secure "prefabricated power distribution assembly."
No matter your needs, PowerWhips has the right cabling products for your data center, including the RussellStoll pin and sleeve plug listed above for safe and effective electrical connectivity. Call or email us today for further information. We're here to help you discover the best cable assembly option.